Rainbow Silk
Claudia Fluegge
Silk painting
Albuquerque, NM
(505) 830-9421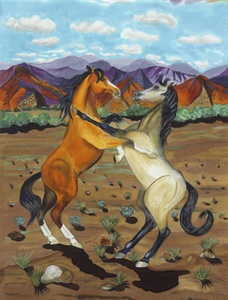 Horses at play fight
34"H x 26"W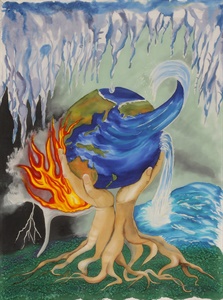 Climate in our hands
Jaquard silk dyes on Crepe de Chine silk
27"H x 20"W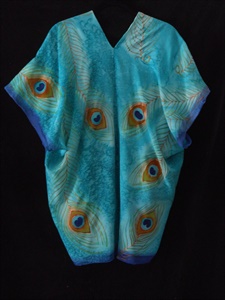 Float with peacock feathers
silk dyes on Crepe de Chine silk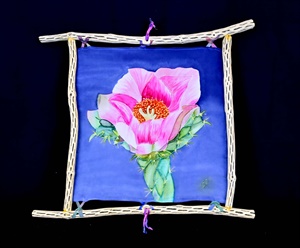 Cholla cactus
hand painted crepe de chine silk,
water based resist, acid silk dyes.
Frame made of cholla cactus, with hand painted silk weaving through the cactus frame
19"H x 24"W x 1"D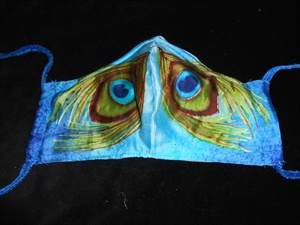 Peacock feather face mask
hand painted silk. Double layer silk with nose wire. Straps stretch to tie over ears.
5"H x 9"W
Artist Statement
My work on silk is primarily inspired by the beauty of nature. Such as the inside of a flower or the beam of light in between formations of rock. Every second can change this appearance entirely. I attempt to blend nature's most precious moments with my own imagination. Silk is an ideal medium for this interactive play. There are a variety of techniques I like to use. Every touch can change the image significantly whether dye, salt, water, air etc. For mostly, but not always leading to immediate gratification. Just as in real life it is always a choice between gaining control and letting go.
Events
Ongoing

Outdoor silk painting classes

at my home studio

Offered for one to three students at one time, following covid safe guidlines

April 20, 2019

La Montanita Food co-op, Nob Hill business center, Albuquerque NM

Saturday 11am to 5pm

June 15, 2019

Bosque school, 4000. Bosque school Rd, Albuququerque, New Mexico

I'll be indoors this year with my silk art 9:30am to 8pm

December 7, 2019

La Cueva high school, 78001 Wilshire NE, Albuquerque NM

The show runs Sat. 9am to 4pm,most likely I'm in the Cafeteria
Galleries
Weems Gallery

Albuquerque,NM

Tapestry Gallery

Madrid, NM

Anderson Abruzzo Balloon mueum gift store

Balloon Museum Dr, Albuquerque,NM

during Balloon Fiesta only
Content copyright by Claudia Fluegge.