Brenda's Jewels
Brenda Bowman
Contemporary Jewelry
Albuquerque, NM
505-463-8118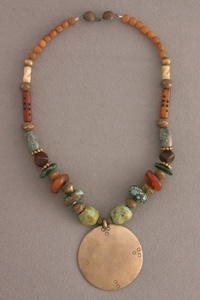 African Shield
Brass African pendant with old African brass beads, Horn, Turquoise, Carnelian, Malacite and Bone.
18 inches long.
Photo by Pat Barrett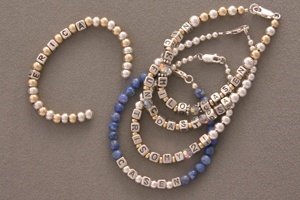 Name Bracelets
Sterling Silver, Gold Filled and Lapis beads most other semi-precious stones also available
Photo by Pat Berrett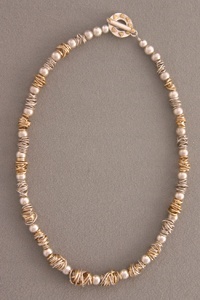 Silver & Gold Twist
Sterling and Gold filled handmade beads.
20 inches long.
Photo by Pat Barrett
Artist Statement
I have always LOVED jewelry of all kinds so I took a few classes to learn to make things for myself and gifts.
Soon there were new and more exciting things I wanted but I had so many interesting pieces already.
The only solution was to sell something to make room for the new. Brenda's Jewels was born (thanks to my husband for the name) and the rest is history.
Events
November 15, 2015

Balloon Museum Holiday Show

Albuquerque Balloon Museum

Great Holiday show 9 - 5 Plenty of free parking
Content copyright by Brenda's Jewels.