SAMika
Sue Ann Mika
Watercolor & Mixed Media
Albuquerque, NM
505-243-5176
Orbit Freely
30"H x 22"W
Photo by SAMika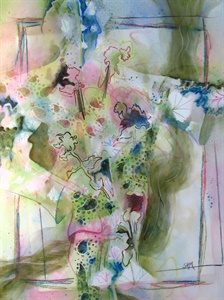 Mother Nature Rocks
She just showed up and I loosely defined her image with WC, stencils, WC pencils, WC crayons.
30"H x 22"W
Photo by SAMika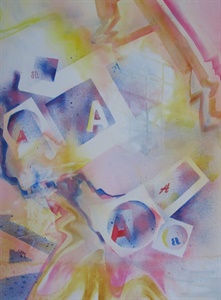 A is for Attitude
30"H x 22"W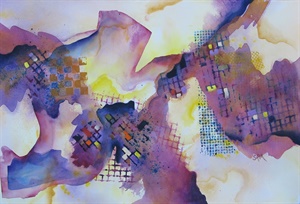 Morph Freely
15"H x 22"W
Photo by SAMika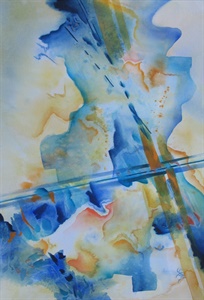 Morph More
22"H x 15"W
Photo by SAMika
Artist Statement
I love to paint. I love how it takes me to another realm, and how it reflects my positive philosophy of being playful and a little nutsy. I love to mix water and color on resist or collage and I love the freedom to do as I please, go beyond boundaries, outta the box. I am lucky to get to follow my passion.
Resume
Art Education:
Classes with local artists
Workshops with: Katherine Chang Lui, Nita Leland, Alex Powers, Barbara Nechis, Mary Todd Beam, Betsy Dillard Stroud, Jim Kosvanic, Jerry Seagle, Helen Gwinn, Ann Smith, Mary Ann Beckwith, Carla O'Conner and others.
Art Memberships:
New Mexico Watercolor Society - Signature Member (secretary/president)
Society of Layerists in Multi Media - Full Member
New Mexico Poetry Society
International Society of Experimental Artists
New Mexico Art League
Juried Exhibitions:
NMWS (awards)
Society of Watercolor Artists
Texas and Neighbors
SLMM National
SLMM New Mexico
NW New Mexico Art Council (award)
Mesilla Valley
NM Art League (award)
Corrales Art Council
Master Works of NM (award)
Los Lunas Museum of Heritage and Arts (award)
Events
October 6 - December 20, 2023

Oasis Institute of Alb, American Square, Menaul and Carlisle

December 1 - 28, 2023

Dona Ana Arts Council Gallery, 230 S Water St, Las Cruces, NM

Opening Reception - Saturday, December 9, 12-4